Full Service U-Haul Dealer
We offer one-way and local moving services.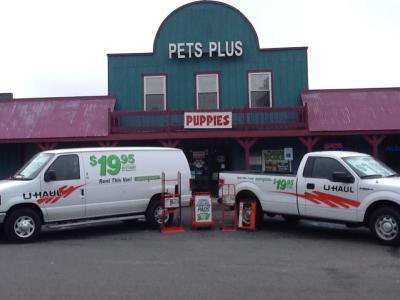 As soon as you have a move date you should make your reservations. You can always reschedule as things change. The sooner you make that reservation, the better you chances are of getting the equipment you want, for the amount of time you want.
---
For Stafford residents, we are the closest U-Haul dealer.
We are located in front of the Food Lion next to the CVS on Route 1, just south of Aquia Harbor. Click here for Google Maps.
---
For all your moving needs.
To rent a U-Haul product, you will need a few things. First and foremost a valid United States or Canadian driver's license is required to rent.
Secondly, you will need a credit or debit card. If you do not have one of these, not to worry, we can still help you. The credit/debit card MUST be present at time of rental. NO EXCEPTIONS.
If not using a credit/debit card, a cash deposit will be required to rent a U-Haul.
---
Trucks, trailers, car dollys, auto transports, boxes, moving supplies.
We have all of what you will need to make your moving experience stress-less. A complete line of moving supplies for the do-it-yourself mover in Virginia. U-Haul moving boxes are specifically designed to make packing and loading easier. We can meet all of your needs, whether it's boxes, packing tape, bubble wrap or any other packing material, Pets Plus Inc. can help.
CLICK HERE TO MAKE YOUR RESERVATION
Or call 540-659-6900 to make a reservation